Tourism IV (1): Water Tower on Margaret Island
Magyar Posta's series of regular postage stamps on Tourism has been expanded by a new stamp depicting the Water Tower on MargaretIsland.
The interesting feature of the stamp is that the 75th anniversary of Budapest's District XIII is marked by an inscription on the selvage of the sheet. The new stamp was designed by the graphic artist Eszter Domé and printed by the banknote printing company Pénzjegynyomda. The photographic material necessary for the stamp was made available by the BudapestCity Archives.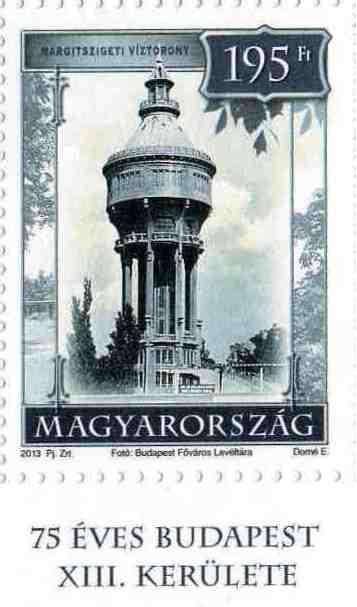 The water tower stands next to the Margaret Island Open Air Theatre. It was designed by Szilárd Zielinski and built in 1911. The architect, who was also known as the father of reinforced concrete, built a tower which was important from the viewpoint of the safe supply of water to the capital using technology that was innovative at the time. The tower stands on a 5 metre base and the floor of its ground level is 9 metres above the zero level of the Danube. The top of the tower is 57 metres above the level of the surrounding ground. The floor of the dome room, which is the uppermost level that can be visited, is merely 27 metres high, yet there is still a marvellous view of the island and Budapest from there. During World War II the water tower was used for military purposes and its windows were bricked up, leaving only embrasures. The tower was damaged in 1944. Renovation works began in 1947 and were very prolonged. After 1962 the water tower only served its original function in part, but is still today a symbolic building of the city and the Water Works of Budapest. It was listed as a protected building in 1977. The tower was renovated in 1983 and 2003, and temporary exhibitions have been displayed there since 1986. (Source: hu.wikipedia.org)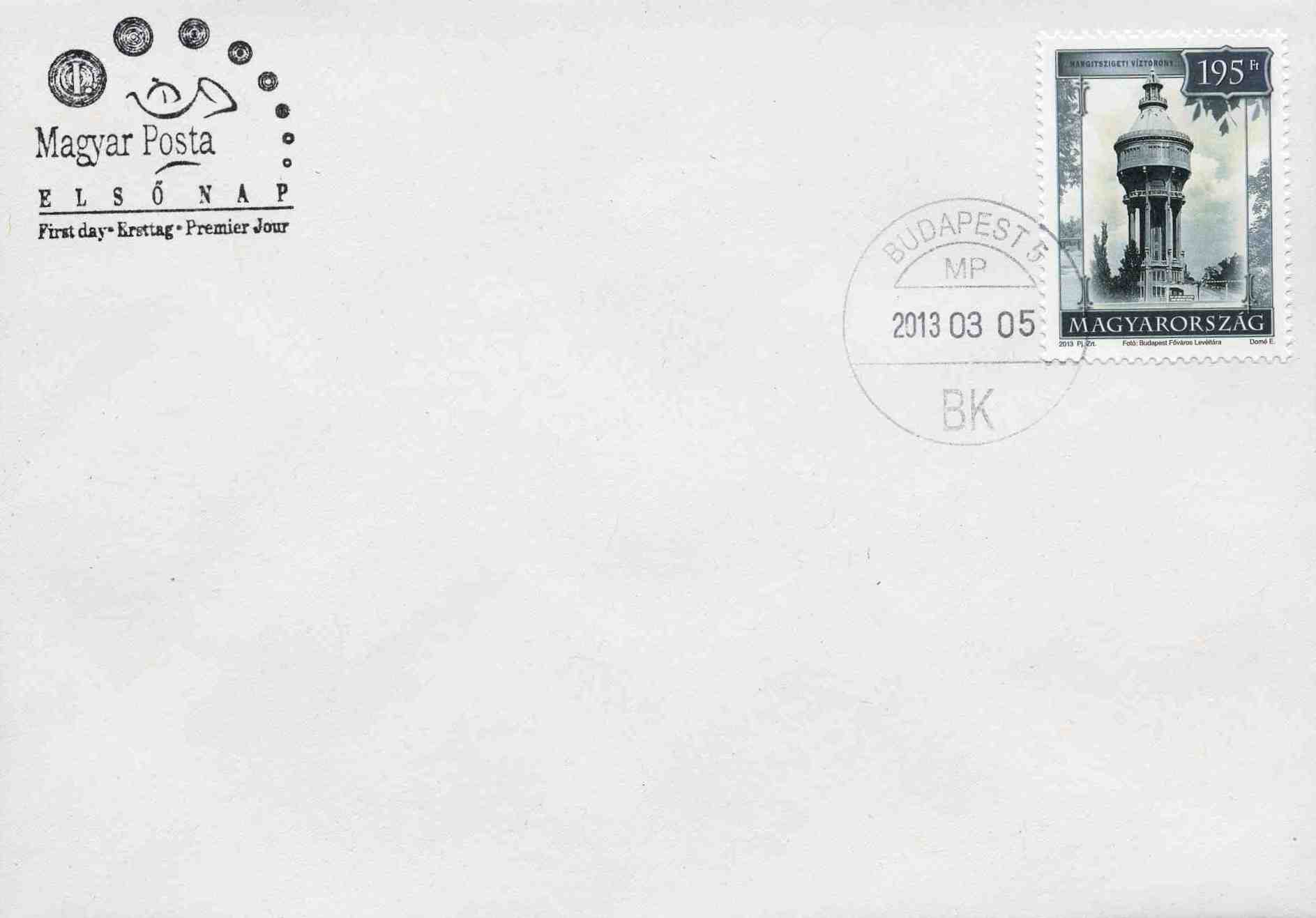 Order code: 2013192010231 (stamp) • Date of issue: 5 March 2013
Face value: HUF 195 • Perforated size: 30 x 40 mm (50 stamps/sheet)
Printed by Pénzjegynyomda Zrt. • Photograph by Budapest City Archives
Designed by Eszter Domé