MPL Net parcel
Sending parcels quickly and simply
The MPL Net Parcel service allows you to send your parcel paying according to the size, even using a prefabricated box.
Net Parcel size categories
'S' (small) – small size: 31x25x7 cm
'M' (medium) – medium size: 50x31x16 cm
'L' (large) – large size: 50x31x35 cm

The maximum weight of items is 20 kg.
MPL packing boxes are sold at all post offices at favourable prices.
We guarantee to deliver your parcel within 1 working day.
With the MPL Net Parcel service you can request pick-up from the door – without a separate fee for 3 parcels and more.
Two delivery attempts, agree delivery time by phone, reporting system and optional retention time (5 or 10 working days) are available with the parcel free of charge.
The Prepaid parcel offers a convenient way for customers to send a parcel quickly, as the fee is paid in advance.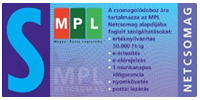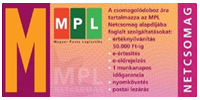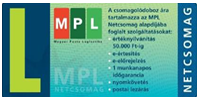 The label can only be purchased together with the box and the price contains the postage for the given size.
After purchasing the box, which includes the prepaid label, the sender can put the parcel together at home, and send it without prior weighing or payment at the time of dispatch, even from a Parcel Terminal.
If you wish to send your parcel from a Parcel Terminal, use our Online Address Label Completion application, and indicate on the address label that you have a Prepaid box. An 8-digit code will be sent to your e-mail address and, using this, the Parcel Terminal will print the address label for you.
If you wish to post your parcel at a post office, you can print your address label at home (print it yourself or have it printed at a post office with your 8-digit code). If you cannot complete it at home, post office staff will help you record your details.
Parcels can be received at home, at business premises, MOL and Coop Postal Points or a Parcel Terminal.