Your Own Stamp
Your Own Stamp, as the name implies, is made for you from photos of you, your family or friends. Due to the size of the stamp, close-ups of one or two people or even a small group, such as a family or company management, can feature on the stamp.
On request objects or pets can also be put on Your Own Stamp or even a pic ture of a company logo or slogan. The photo for Your Own Stamp is accepted on paper (sharp close-up, preferably on a neutral, light background) or electronically (.jpg or .tif file, max. 1 Mbyte, min. 100 dpi), if possible with the part to be displayed indicated.
It is a stamp with a label showing a picture of your choice. The smallest amount you can buy is one heet of stamps containing Your Own Stamps of identical size.
A photo of your choice is reproduced on the blank labels on a sheet of stamps, which you can then buy. The smallest amount you can buy is one sheet of stamps containing copies of Your Own Stamp of identical size.
The size of the label used to personalise the stamps is 36,25 x 25,20 mm.
Your Own Stamp with 6 stamps (A5 size sheet of stamps):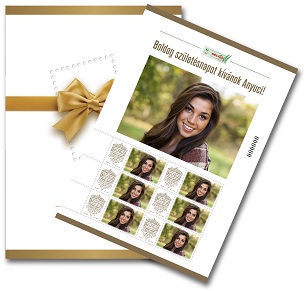 Take a look at our basic sheets (click on the image to enlarge it), your image will be placed in the area marked with an icon next to the stamp ("My stamp" - second image - enlarged size - also on the top of the sheet).