What is Postcrossing
The Postcrossing project is an online platform with the goal to connect the world via real mail, by allowing anyone to exchange postcards with other random members around the world.
One unique feature of Postcrossing is that all postcard exchanges are random: the sender does not know where they are going to send a postcard to, since the recipient is chosen by Postcrossing at random. Likewise, the receiver never knows from where or from whom the postcards are coming from until they are received. Thus, all postcard exchanges are a surprise!
Through its randomness, the project connects people from all backgrounds. Postcrossing unites people across borders, ages, genders, race or beliefs, thus celebrating the world's diversity.
The project started in July 14th, 2005 by Paulo Magalhães, a then Portuguese student with a passion for mail and postcards. What was initially a side project turned to be more popular than he anticipated. Today, 45 million postcards have been received through Postcrossing among a community of more than 700,000 members worldwide.
How does it work?
It's quite easy to participate: for each postcard a member sends, he or she will receive a postcard back from another random member somewhere in the world. One never knows where the next postcard will go to, nor from where or from whom they will come from.
To join Postcrossing, the first step is to sign up for a free account at www.postcrossing.com. Once that is done, the steps to participate are always the same: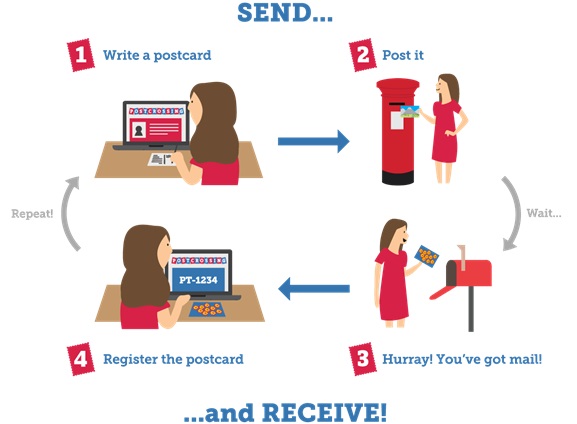 Request an address to send a postcard to — you'll be given the address of a random member and a Postcard ID (eg:HU-12345). Pickup a postcard, write a friendly message along with the Postcard ID and the address given. Don't forget the stamps!
Then, simply mail the postcard to that address.
Receive a postcard from another postcrosser!
Now simply register the postcard you received using the Postcard ID code written on it.
Go to number 1 to receive more postcards!
It's possible to have several postcards traveling at the same time. And the more you send, the more you'll receive! It's really quite simple.