NEWSLETTER
Dear Stamp Collector and Stamp Lover Visitor!
Magyar Posta regularly informs its customers about the latest stamp issuances and Hungarian stamps' successes in its newsletters. In case you would also like to receive information about the stamp issuances and other important stamp news, please register below!

If you register for our newsletter, you will receive a valuable free gift with your first order. Therefore we ask you to write the code of the gift you would like to receive into the comment field.
(Please note that we accept only one email address to one delivery address.)

GIFT OPTIONS
Magyarország Állatvilága Blokk + FDC
Code: 2002110030011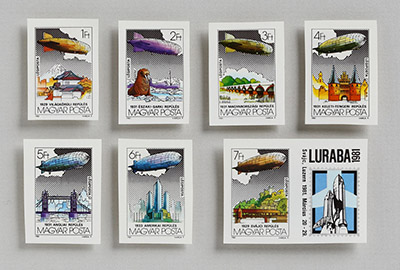 Zeppelin (IMPERFORATED)
Code: 1981020050013

NEWSLETTER SIGN UP
(Consent to data processing for sending offers, product and service data sheets, and promotions)

Please send me informative material about Hungarian stamps and information about special stamps and other philatelic news by post and/or by e-mail.
What type of data do we process?
Your data provided on the data sheet: name, telephone number, address, e-mail address and the language in which you request offers.
How is Magyar Posta authorised to process data?
By your voluntary consent in which you provide your data on this data sheet, and then sign it. [Section 5(1)(a) of the Information Act, and Section 6 of Act XLVIII of 2008 on the basic requirements of and certain restrictions on commercial advertising activities]
For what purposes does Magyar Posta process data?
We process your data to be able to contact you in response to your enquiries, and send your offers, product and service data sheets and promotions by post, e-mail, telephone or via other electronic means (e.g.: Facebook message).
How long is your data processed?
We process your data until you withdraw your consent, or in the lack of this for 5 years following receipt of this declaration at the latest. Following withdrawal of your consent or the expiration of the deadline, your data is not used for purposes of direct marketing, and the data will be deleted.
How can you withdraw your consent?
You can withdraw your consent at any time without limitations, free of charge, by stating your identification data in a letter sent by post to Magyar Posta Filatéliai Osztály, Budapest, H-1560, or in an email sent to the address philately@posta.hu.
Who can have access to your data?
Your data can be accessed by employees in charge of sending offers, product and service data sheets and promotions, and by employees in charge of communication. Your data is not forwarded to any third party.
Are data processors involved?
No data processors are involved during data processing.
What rights do you have?
Magyar Posta Zrt. informs you about all facts relating to the processing of your data, in writing if you request written information. You can request your personal data to be corrected, deleted or blocked at any time.
Where can you turn to protect your rights?
If you have a complaint, we recommend that first you contact Magyar Posta Zrt. so that we can handle it (by post: Ügyfélszolgálati Igazgatóság H-3512 Miskolc, by fax: 06-46-320-136, by e-mail: ugyfelszolgalat@posta.hu, by phone.: 06-40-46-46-46). You can also contact the National Authority for Data Protection and Freedom of Information (address: H-1125 Budapest, Szilágyi Erzsébet fasor 22/c, postal address: H-1530 Budapest, Pf.: 5., e-mail: ugyfelszolgalat@naih.hu, website: naih.hu), or you can turn to the regional court competent at your place of residence or stay, as you choose. Data protection registration number: NAIH-76175/2014.