Puskás ArEna Budapest
Magyar Posta is issuing a special souvenir sheet in honour of the reconstructed Puskás Arena. Fifty thousand copies of the numbered special souvenir sheet designed by the graphic artist Glória Hefelle were produced by ANY Security Printing Company. The new issue will go on sale on 20 November 2020 and be available in first day post offices and at Filaposta in Hungary from the date of issue, but may also be ordered from Magyar Posta's online store.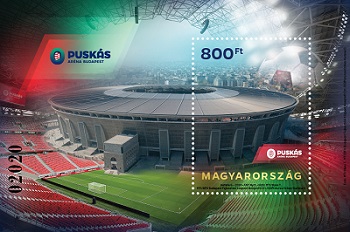 The Puskás Arena has the largest seating capacity of any stadium in Central Europe and is the main home ground of the Hungarian national football team but it is also a suitable venue for other sporting and music events and international conferences. Its predecessor was the Ferenc Puskás Stadium (called the People's Stadium until 2002), likewise named after the legendary Hungarian striker of world repute. The new Puskás Arena was built precisely over the site of the old stadium and their centre points match to the millimetre. The concrete structure of the People's Stadium erected in the early 1950s was demolished and pulverised, and the material of the old concrete was incorporated in the walls of the new stadium. The turf of the stadium's pitch uses state-of-the-art hybrid technology reinforcing natural grass with synthetic fibres. The inaugural match and the first match of the national football team at the new stadium was played on 15 November 2019. The world-class facility equipped with modern information technology, lighting and other devices provides quality service for the public, players and media.
The special souvenir sheet, the first day cover and the postmark feature exterior and interior views of the Arena, as well as its logo.