Hungarian saints and blesseds VIII
Magyar Posta is continuing the presentation of Hungarian saints and blesseds in 2020. The numbered souvenir sheets with the subtitle Pious Elizabeths are issued in honour of Elizabeth of Hungary, Elizabeth of Töss and Saint Elizabeth of Portugal.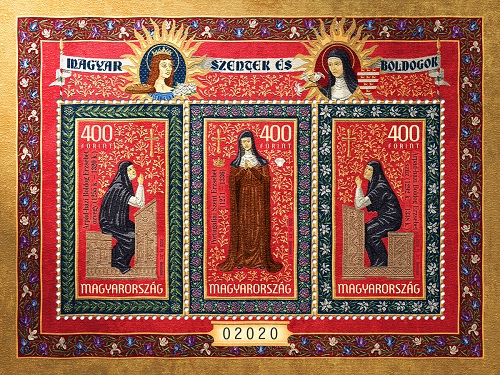 Together with the standard edition, a special edition using embossing and, as part of the exclusive set, a likewise numbered limited edition black print are also being released. The new souvenir sheet was designed by the graphic artist Imre Benedek and printed by the banknote printing company Pénzjegynyomda. The new issues are available from Filaposta, philately specialist services, certain post offices and www.posta.hu.
The two famous female saints of the House of Árpád – Elizabeth, who provided charitable social care, and Margaret, who was faithful to her vow as a Dominican nun throughout her life – set strong and attractive examples of saintliness which many wished to emulate themselves. Their holy way of life was followed by many of their relatives.
Elizabeth of Hungary • She was the daughter of Stephen V and Elizabeth the Cuman, and the niece of Saint Margaret. On being widowed, Elizabeth lived in the convent of Saint Peter in Naples. In recluse, she strove for humility, following the example of her aunt.
Elizabeth of Töss • She was the daughter of the last Árpádian king, Andrew III, and his Polish wife, Fenenna of Kuyavia. Both Saint Elizabeth and Saint Margaret were among her aunts. After her father's death, she became a nun of her own volition.
Saint Elizabeth of Portugal • She was the daughter of Peter III of Aragon and the great granddaughter of Andrew II of Hungary. Elizabeth was named after her aunt who became a saint. She managed to make her husband, who had led a libertine life, repent his sins before he died. As a widow, she distributed her wealth before joining the Third Order of Saint Francis.The Hungarian Saints and Blesseds VIII stamp set includes the standard, special and monochrome editions of the special souvenir sheet. The last of these may only be purchased in this compilation.