For Youth 2019 Jules Verne's Captain Nemo
The theme of the miniature sheet with a surcharge to support youth stamp collecting issued by Magyar Posta in 2019 is the novel by Jules Verne, Captain Nemo. Magyar Posta devotes the amount of the surcharge on two of the stamps of the new issue, a total of HUF 150, to supporting youth stamp collecting.Two hundred thousand copies of the new stamp designed by the graphic artist Zsolt Vidák were produced by ANY Security Printing Company. The stamp is available from Filaposta, philately specialist services, certain post offices and www.posta.hu.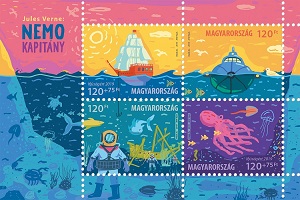 Jules Verne, one of the creators of the genre of science fiction, started publishing his novel Captain Nemo in parts in 1869, 150 years ago. The novel presents an imaginary underwater world through the adventures of the submarine Nautilus. The author's belief in technological advance, his geographical and biological knowledge, and his intention to reveal human problems concealed behind historical events all contributed to an immortal work of literature coming into being.The miniature sheet depicts the characters of the novel's fantasy world under and near the water including a sailing ship ready to set out on a journey of discovery and the submarine. The first day cover shows a portrait of Jules Verne and the postmark has a stylised drawing of the Nautilus.