Christmas 2020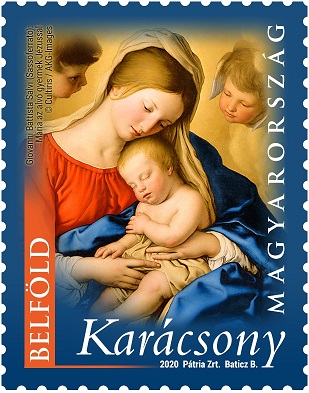 For sending seasonal greetings in 2020 by post, Magyar Posta, as in previous years, is releasing a self-adhesive postage stamp with no value indication and the inscription "Domestic" in standard and special editions. The standard edition is in sheets of fifty stamps, while the special edition is a miniature sheet of five stamps. This Christmas Giovanni Battista Salvi da Sassoferrato's Madonna and Sleeping Child appears on the stamps. The new issue was designed by the graphic artist Barnabás Baticz and produced by Pátria Nyomda. The new releases will be available at first day post offices and Filaposta in Hungary from 22 October 2020, and may also be ordered from Magyar Posta's online store.
The painting entitled Madonna and Sleeping Child by the Italian baroque artist Giovanni Battista Salvi (1609-1685), who is often referred to simply by the name of the town of his birth, Sassoferrato, appears on the newly released stamp and on the accompanying first day cover. It is in the collection of the Louvre.The press sheet of 50 stamps is enlivened by visual elements on the barcode and festive greetings in Hungarian, English, German and French on the selvedge. A grid, which was previously removed during printing, aids separating the stamps from the sheet. On the miniature sheet flexographic printing was complemented with spot varnish, surrounding the Madonna and Child with a restrained sparkle.
Between 29 November and 26 December 2020, this year, too, customers may send their season's greetings with a special Christmas postmark for a fee. This Christmas Postmark service may be requested at any post office. The standard versions of the postmarks using green ink as well as the mark "Karácsonyi Posta" (Christmas Post) can be seen on the right of the picture.