Chinese Horoscope: 2020 – the year of the rat
For the seventh time, Magyar Posta is issuing a special miniature sheet of two pairs of stamps using motifs from the Chinese horoscope. The coming period from 25 January 2020 until 11 February 2021 is the year of the rat associated with the element metal. Twenty thousand copies of this year's new miniature sheet designed by András Szunyoghy Jr were produced by ANY Security Printing Company. It is available from Filaposta, philately specialist services, certain post offices and www.posta.hu.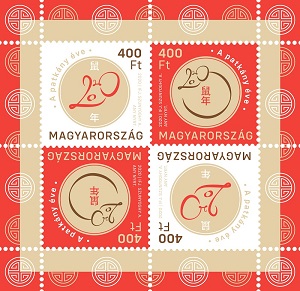 According to the Chinese horoscope, the period of the element metal brings determination, relentlessness as well as innovations and advanced technology to the world. The rat has negative associations to the western mind but for the ancient Chinese it was a symbol of intelligence, abundance and well-being, thus they believed that the year of the rat could bring financial security and prosperity for many. The design of the stamp incorporates the head of a rat into the digits of 2020. The two pairs of stamps, one showing a dark brown rat in a light brown circle on red background and the other a red rat in a light brown circle on a white background, are arranged diagonally tête-bêche.On the first day cover pictograms of the 12 animals of the Zodiac form a circle with the head of the rat highlighted from the rest at the top. The symbol of happiness appears in the postmark.
.