PLANET BUDAPEST 2021
SUSTAINABILITY EXPO AND SUMMIT


Magyar Posta is issuing a special miniature sheet in honour of Planet Budapest 2021 Sustainability Expo and Summit to be held in Budapest. Twenty thousand copies of the miniature sheet designed by the graphic artist Szilárd Demján (Unger and Partners) were produced by ANY Security Printing Company.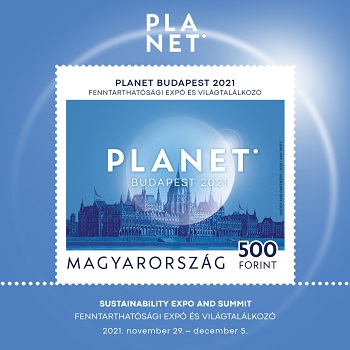 The new issue will be released on 8 November 2021. The miniature sheet is available from Filaposta, philately specialist services, designated post offices and www.posta.hu.
Planet Budapest 2021 Sustainability Expo and Summit is a joint event of the Visegrád countries dealing with sustainable development. Its aim is to draw the attention of the public, and in particular young people, to the adverse environmental, social and economic processes and to show that these negative changes can still be reversed.
The event to be held between 29 November and 5 December 2021 will present many exhibitors from the Visegrád countries who can promote sustainable development through their technological developments, and innovative products and services. Planet Budapest 2021 is based on four thematic groups, which are the Universe of Sustainability – Summit, Nature Friendly Development – Sustainability Expo, Your Planet – Interactive Public Programmes about Sustainability, and Heroes of the Future – Youth Programme.
The stamp of the miniature sheet features one of Budapest's best known public edifices, the seat of the Hungarian National Assembly and some of its institutions, which is Europe's second and the world's third largest parliament building. The graphics of the miniature sheet, the first day cover and the postmark reflect elements of the event's image.