100 years of the Postal Directorate in Debrecen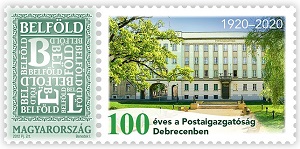 In 2020 the Postal Directorate in Debrecen is celebrating the centenary of its establishment, which is being marked by the release of a promotional personalised stamp.
Seventy thousand copies of the philatelic novelty made by printing on the label part of Your Own Message Stamp IV: Domestic were produced by the banknote printing company Pénzjegynyomda, and can be purchased at Filaposta and designated post offices or ordered from Magyar Posta's online store from 16 April.
On 17 April 1920 the establishment of the Postal Directorate in Debrecen was announced in the Hungarian Royal Post and Telegram Regulations Gazette. The Directorate's initial remit covered the postal affairs of the historic counties of Bereg, Bihar, Hajdú, Szabolcs and Szatmár. Over the 100 years there have been many changes in the areas or names of the areas under the Directorate's control, yet its essential task has remained unaltered: the management and support of the post offices in the eastern region of Hungary. In keeping with the image of Magyar Posta, the colour green dominates the design of the stamp and label.
The almost 90-year-old building of the Postal Directorate in Debrecen, which was designed by Aladár Münnich, appears on the stamp and in the postmark. The first day cover shows part of the Gazette, highlighting the announcement of the establishment of the Directorate.
Order code:
2020101010031 (stamp)
2020101060032 (FDC)
2020102040031 (sheet)
Issued on: 16 April 2020
Selling price: Domestic (On the date of issue HUF 135 pays the postage of a domestic non-priority letter up to 50 g, or postcard or picture postcard.)
Printing technique:
offset
Number of copies:
70,000 stamps (35 stamps with label per sheet)
Perforated size ofstamp:
18 mm x 25.2 mm
Perforated size of label:
36.25 mm x 25.2 mm
Imperforated size: A4
Designed by Barnabás Baticz
(stamp label, FDC)
Photograph by Eastern Hungary Regional Directorate
Links