125 years of the Hungarian Olympic Committee
In 2020 the Hungarian Olympic Committee is celebrating the 125th anniversary of its foundation, which Magyar Posta is marking by issuing a commemorative souvenir sheet. Fifty thousand copies of the numbered commemorative souvenir sheet designed by the graphic artist Orsolya Kara were produced by ANY Security Printing Company. The new issue will go on sale on 9 October 2020 and be available in first day post offices and at Filaposta in Hungary from the date of issue, but may also be ordered from Magyar Posta's online store.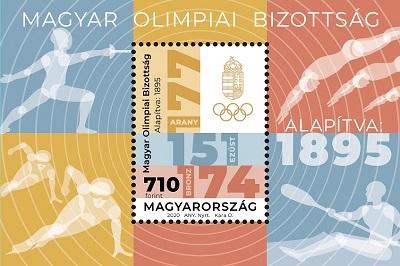 On 19 December 1895 the Hungarian Olympic Committee was founded. The Committee is Hungary's third oldest civil society organisation still functioning today. Its main task is to nominate, supervise and manage Hungarian athletes at the Olympic Games. Numbers recalling Hungarian Olympic successes appear in the design of the stamp of the commemorative souvenir sheet, showing the totals of the medals won at the Summer and Winter Olympic Games: 177 golds, 151 silvers and 174 bronzes, 502 in all. The colours of the stamp refer to the first three places, gold, silver and bronze. Disciplines in which Hungary has excelled are shown in the border of the sheet. The first Hungarian gold medal was won in swimming by Alfréd Hajós. Short track speed skating appears on the sheet in honour of the first gold medal at the Winter Olympics. From an Olympic viewpoint, overall the most successful Hungarian sport is fencing, followed by swimming and then canoeing/kayaking in third place. The stamp, first day cover and special postmark all feature the logo of the Hungarian Olympic Committee.